The expedition of Ixra c began on Solar Date 87.8, when two teams came from Hiiro, and LM2's crew came from the Tripian planet of Korr. All three groups landed on Ixra c in effort to give vaccines to the Zarvas. These vaccines were healing many Zarvas infected with plakno. Plakno is a deadly infectious disease on the planet of Laktra.
Groups
HIMT 1: Furan, Flandre, and Cirno
HIMT 2: Marisa, Alice, Reimu, Yukari, Remilia, Sakuya
LM2: Perintuvv and Iiant
Note: Most Zarvas who were cured went with the groups to help out, making things faster.
Maps
The map was planned out by the Hiiro Team 1.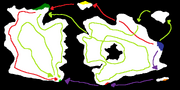 Ad blocker interference detected!
Wikia is a free-to-use site that makes money from advertising. We have a modified experience for viewers using ad blockers

Wikia is not accessible if you've made further modifications. Remove the custom ad blocker rule(s) and the page will load as expected.