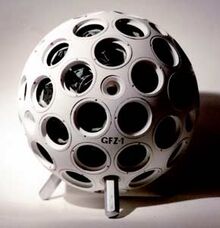 After many days of upgrades to the spacecraft Proxvau Laktra, Proxvau Laktra II finally was set on the launch pad, and the fueling process began at 1:04 WST, on solar date 99.6. At 1:24, as scheduled Proxvau Laktra II launched. It was retired after a great operational time segment.
Goal
The goal of Proxvau Laktra II is to create a mapping of Laktra by orbiting in a Low Laktran Orbit. By 101.5, it had achieved this goal and was pointlessly orbiting in space. The Kykanta Space Program suggested it burn up in Laktra's atmosphere, after which it was sent into an eccentric orbit that dove into the atmosphere on 103.1, when a spectacualr fireball was expected to be seen over the Starlake.
Ad blocker interference detected!
Wikia is a free-to-use site that makes money from advertising. We have a modified experience for viewers using ad blockers

Wikia is not accessible if you've made further modifications. Remove the custom ad blocker rule(s) and the page will load as expected.