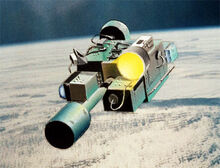 Blah blah blah, it's been translated, yeah.
LM3 was launched to provide more supplies to LM2 on Laktra.
Discoveries
You think WE'D find anything? Doubt it.
Log Files
The crew made this page, the crew write this log, yep, us... Kuventar and Sebilsani, Sebilsani's quite the joker, she came up with the humor!
92.4 - Nothing interesting is expected to happen. Just a routine rendevous with Laktra.
93.5 - Landing in Iiant and Pertinuvv's nation in a few minutes.
96.6 - We're not leaving. See ya LM3. Signing off.
Ad blocker interference detected!
Wikia is a free-to-use site that makes money from advertising. We have a modified experience for viewers using ad blockers

Wikia is not accessible if you've made further modifications. Remove the custom ad blocker rule(s) and the page will load as expected.