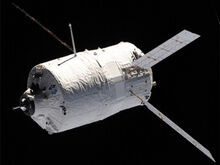 The Kieru Viewer Mission is a mission to send a spacecraft to broadcast the view of Kieru and its system. It was announced by Flandre on Ixra c on 96.1, and was launched on 96.6. Currently, it is still operating and in Kieru at the moment.
Log File
96.6 Launching complete.
96.6 Snapped a picture of Kieru with her one or two planets.
96.7 Entering the Outer Belt. Caution proceeded.
96.8 Out of the Outer Belt.
97.1 Inside of Kieru's magnetic field, snapped another picture with her planets, revealing three of them.
97.5 Currently observing one of the planet's feature.
98.1 Orbiting Kieru a.
99.4 Orbiting the star.
100.1 Found lifeforms (?). Need confirmation.
100.2 Hit. Auto reformation activated. Enemy spacecraft found. Familiar lifeform found on planet 1.
Ad blocker interference detected!
Wikia is a free-to-use site that makes money from advertising. We have a modified experience for viewers using ad blockers

Wikia is not accessible if you've made further modifications. Remove the custom ad blocker rule(s) and the page will load as expected.