This is the home of the Woder. It has no space exploration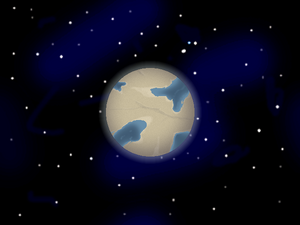 missions and so far only peer at the sky using telescopes. The GBIF has named it Xist.
Statistics
Surface: 85% Ocean 15% Land.
Gravity Strength: That of G2Vbeta b. Atmosphere: The same to G2Vbeta d.
Pressure: Slightly weaker.
Temperature: 10 degrees Celsius.
Radiation: A little above human safety levels. Fortunately Woder are adapted to it.
Wind: Generally 2 km/h. Note: It has no country divisions.
Geographic features
Attohhwv Mountain - a 1 km high mountain. Its coordinates are 15S 175E - if it were on Earth it would be just off the coast of Vanuatu.
Gaeul Mountain - a 2 km high mountain. It is next to Mt Attohhwv.
Newos Crater - a crater on the slope of Mt Gaeul. It is also a lake.
Ghans crater - a crater containing the whole complex above.
Zhaux crater - a crater on Mt Gaeul's summit. This proves that the mountain is a volcano.
Addurzanan Island - a mushroom shaped island. Its coordinates are 15N 176W - if it were on Earth it would be off the coast of Hawaii.
Ghltom Rock - a 20 km square flat rock of pure gold. It is near the middle of Is. Addurzanan.
Orior crater - an underwater crater. It is off the coast of Is. Addurzanan and only 25% of the basin is visible.
Cadenten Rock - a mountain resembling the landmark mountain of Australia. It is near the impact basin of Orior.
Exploration
59.6 Hiykerke 1 of G2Vbeta f has landed successfully and ventured around the planet. It landed of the summit of Mt Attohhww. In the end communications ceased when a storm broke the antenna off.
59.8 Hiykerke 2 of a G2Vbeta d,f cooperative mission landed near the same place. In the end, the batteries failed.59.9 Hiykerke 3 of a G2Vbeta f has landed successfully and the first manned probe to G2V e landed safefully 7 hours later it crashed into Orior crater and lost transimttons EVEN know it can land in water!