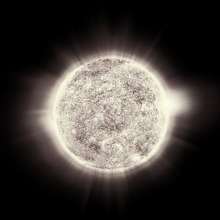 Elode is a F2V (main sequence yellow-white dwarf) star with 9 planets, each planet is much different from the others
Planets
| Planet | a | e | i | peri | node | Period | Mass | Radius | Day length | Axial Tilt | Avg. Temp | Atmosphere |
| --- | --- | --- | --- | --- | --- | --- | --- | --- | --- | --- | --- | --- |
| Kykuòë | 4.5 M km | .13 | | | | | 3.28 MJ | | | | | |
| Eritanka | 51.9 M km | .23 | 1.23 | 184 | | 52.8 | .67 ME | | | | | None |
| Ocim | 107 M km | .01 | .28 | 66.1 | | 156 | .52 ME | | | | | None |
| Rhodondron | 1.48 AU | .032 | 1.48 | 165 | | 1.27 yr | .83 ME | | | | | |
| Chyanoi | 1.82 AU | .009 | | 132 | | | 3.3 ME | | | | | SO2, O2, CO |
| Xyrtif | 4.54 AU | .08 | .84 | 303 | | 6.85 yr | 2.2 MJ | | | | | |
| Kyr | 10.6 AU | .023 | 1.21 | 120 | | 24.5 yr | .79 MJ | | | | | |
| Kyano | 15.8 AU | .037 | 2.31 | 92 | | 44.3 yr | .56 ME | | | | | CH4, N2 |
| Pural | 26.3 AU | .054 | 1.29 | 129 | | 95.3 yr | 4.9 ME | | | | | |
Log Files
-9.7 - Original race defeated by the ancient Keallra (deafeated at SD 0)
51.4 - Tripe arrive in system. Begin to discover.
51.6 - Tripe attempt to build a colony on Rhodondron.
60.7 - New colonies formed.
62.8 - Establishes TAAA7r. Launches Moon Finder Probe.
Nearby Stars
Stars within 30 light years
Ad blocker interference detected!
Wikia is a free-to-use site that makes money from advertising. We have a modified experience for viewers using ad blockers

Wikia is not accessible if you've made further modifications. Remove the custom ad blocker rule(s) and the page will load as expected.